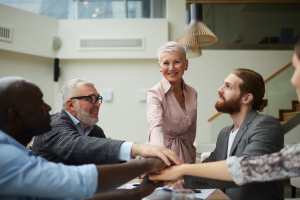 Shaping Conversations Utilizing Your Communities

In a growing virtual first world, associations need to own the conversations that happen between experiences such as IRL (live) events, Zoom events, online learning and other peaks of engagement.
Explore how you can use your community to shape conversations your association members are having or should be having around key issues, such as regulations, hot topics, market trends, education and training.
The new age of Community has expanded forums to be engaging professional networks. In this session we cover how you can use new tools and methodologies to enrich members online experience to increase engagement and lead important member and industry conversations.
Hear what successful associations are doing that are allowing them to retain and grow membership as well as increase their influence with government agencies and policy.
Discover how using integrations can make communities better user experiences by bringing data from the AMS over to a community for easier onboarding and using Single Sign On to create one source of truth and identify active users for other campaigns.
Learn how using value-based engagement can help you establish leaders in your fields and validate your position in a continually disrupted environment.
Get real world examples of associations who established a Virtual First organization using their communities and provided a better user experience that adds value to their members day-to-day life.

Attend to Earn CAE Credits. As a CAE Approved Provider for the educational program related to the CAE exam content outline, this program may be applied for 1.0 credits toward your CAE application or renewal professional development requirements.
The CIO Hour will be recorded each month in case you miss it. However, we hope you attend and engage with the industry experts and other participants regularly so you continue to boost your IT-IQ.
Speakers
James Marquis

Chief Innovation Officer and The CIO, 501Works

James is a seasoned senior executive with more than 20 years of experience working with associations and non-profits of all sizes. James possesses excellent communications skills allowing him to function as a trainer, technology evangelist and to bridge the divide which frequently exists between functional business units and information technology specialists. Coupled with his ability to deep-dive into technology, these key skills allow James to operate across department lines and organizational levels to better integrate technology with the strategic and tactical needs of an organization

Wes Goldstein

MBA, PMP, CSPO Re-Founder & COO at Mobilize

Wes Goldstein is currently the Chief Operation Officer at Mobilize.io. For over a decade, Wes had been instrumental in building Communities for companies like The Walt Disney Company, DirecTV, The National Restaurant Association, EO Networks, and over 300 other organizations. He has worked on a variety of Community Platforms including Jive, Salesforce, Lithium/Koros, and Higher Logic. Wes holds a BS from the University of Southern California and an MBA from Redlands University.